Anastasis Germanidis
Anastasis Germanidis is an artist and engineer. His projects explore the effects of new communications technologies and artificial intelligence systems on personal identity and social interaction. His artwork has been shown internationally across the US and Europe, including at Ars Electronica Export, Cannes NEXT, and CPH:DOX, and featured in The Telegraph, WIRED, NRC Handelsblad, The Irish Independent, and Mashable, among other places. His recent project Antipersona was one of Wired UK's Best Apps of 2016. He's happiest when he works in public and hopes to one day have every part of his behavior and personality be generated by computer programs that he's written.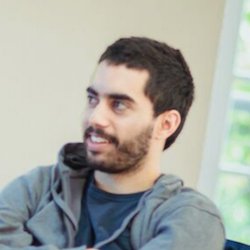 Cristóbal Valenzuela
Cristóbal Valenzuela is a technologist, artist and software developer interested in the intersection between machine learning and creative tools. He is a researcher at New York University and author and director of RunwayML. He also contributes to OSS and helps maintain ml5.js. His work has been sponsored by Google and the Processing Foundation and his projects has been exhibited in Latin America and the US,including the Santiago Museum of Contemporary Art, GAM, Fundación Telefonica, Lollapalooza, NYC Media Lab, New Latin Wave, Inter-American Development Bank, Stanford University and New York University.